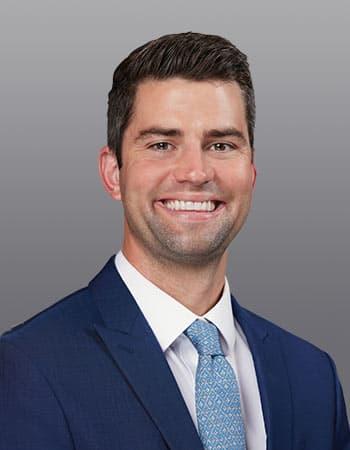 William A. Robinson, M.D.
Spine Surgery
About Dr. Robinson
Dr. William Robinson is a fellowship-trained orthopaedic spine surgeon. He specializes in surgical and nonsurgical methods to relieve patients' back, neck, and spine injuries and conditions.
Dr. Robinson earned his Bachelor of Arts degree in sociology at The University of Texas at Austin. Remaining in Texas, he moved to Temple to complete his Doctor of Medicine degree at Texas A&M University College of Medicine. He then completed an orthopaedic surgery residency at Mayo Clinic in Rochester, Minnesota. Following his residency, he continued his education with an additional year of specialized training through a spine surgery fellowship at Rothman Orthopaedic Institute and Thomas Jefferson University in Philadelphia, Pennsylvania.
With a special interest in relieving pain through nonsurgical methods first, he works with his patients in a team-oriented approach by being their friend, coach, and ally long before becoming their surgeon. His first, second, and third lines of treatment all involve nonsurgical interventions. For his patients who do need surgery, he is an expert in the most minimally invasive techniques that exist, including robotic and navigation technology.
When Dr. Robinson is not seeing patients, he spends time with his wife and daughters. He is a professional musician who records music for charitable organizations and a motivational speaker. He enjoys staying active as much as possible and loves to watch and play sports.
Dr. Robinson Specializes In:
Cervical, Thoracic & Lumbar Spine Disorders
Spine Athletic Injuries
Physician Coordinator
Cynthia Meraz
Phone: (214) 220-2468 Ext. 3348
Physician Assistant
Education and Training
Undergraduate Degree
The University of Texas, Austin, TX
Medical Degree
Texas A&M University College of Medicine, Temple, TX
Orthopaedic Surgery Residency
Mayo Clinic, Rochester, MN
Spine Surgery Fellowship
Rothman Orthopaedic Institute and Thomas Jefferson University, Philadelphia, PA
Affiliations
Professional Affiliations
American Academy of Orthopaedic Surgeons
North American Spine Society
Hospital Affiliations
Baylor Scott & White Sports Surgery Center at the Star
Baylor University Medical Center
North Central Surgical Center
Texas Health Presbyterian Hospital Dallas