Durable Medical Equipment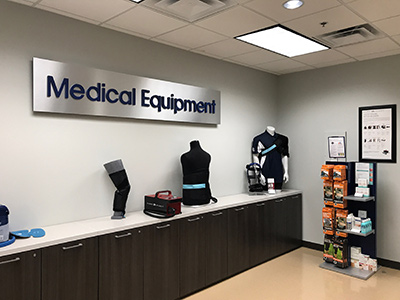 At Carrell Clinic, we understand your injury or condition may require the use of durable medical equipment, or DME, to ensure a fast and effective recovery, which is why we carry pieces such as:
Ankle braces
Back supports
Cervical collars
Foot braces
Knee braces
Shoulder slings
Tennis elbow straps
To ensure your visit is optimal, we offer a durable medical equipment store in our clinic. If your physician orders durable medical equipment during your visit, please visit our DME store, located in Tower I, Suite 500.
Purchases made at our Carrell Clinic DME store are nonrefundable/unexchangeable following your purchase.
To learn more about durable medical equipment or to schedule an appointment, call Carrell Clinic today at (214) 220-2468.

Faster Healing, Better Recovery Discover The Game Ready® Difference
Compared to traditional applications, Game Ready delivers greater therapeutic benefits. With Game Ready you have the power to relieve pain, reduce swelling, reduce narcotic medicine consumption, stimulate natural tissue healing and measurably improve recovery milestones.
GAME READY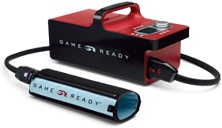 Temperature, pressure and time status indicators provide clear information, making it easier to monitor and manage treatments
Adjustable set-point temperature control provides a consistent temperature across the wrap and throughout treatment, improving patient comfort and safety
Pre-set programs reduce risk of injury by automating alternating treatment and "rest" times
Adjustable pneumatic compression provides better contact and deeper-penetrating cryotherapy benefits
Easy-to-apply, anatomically designed, circumferential wraps available for all body parts in a variety of sizes assure better surface contact and more effective hands-free cooling
Game Ready Cold Works Faster, Penetrates Deeper, And Lasts Longer
Head to head infrared thermal imagery shows that Game Ready provides faster, deeper, and longer-lasting cold than other cryotherapy products. For greater cold therapy benefits, go with Game Ready.
ICE/GEL PACK
No temperature, pressure or time status indicators
Ice/gel packs provide uncontrolled, inconsistent temperatures and begin to warm when applied on an injury or surgery site
No pre-set programs
Static compression only when used with an elastic bandage
Not anatomically designed, leaving gaps in coverage areas
Coldest Temp: 50°
Coldest Temp: 68°
Coldest Temp: 54°
Side view shown. Skin temperature measurement immediately after 30 minutes of treatment. All devices applied per manufacturer's instructions and all measurements taken from uniform distance. All devices applied on different days allowing full recovery for test subject.
FOR ADDITIONAL INFORMATION CONTACT MICHAEL AT THE CARRELL CLINIC — (214) 720-9389
FREESTYLE® OA KNEE BRACE


Game Ready How-to Videos