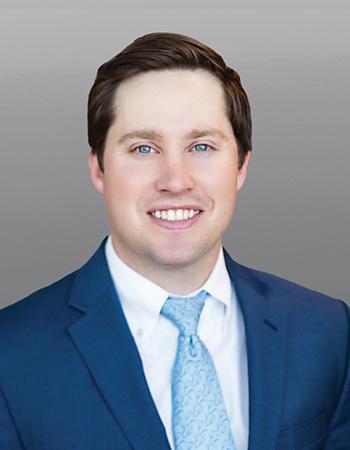 Tyler R. Youngman, M.D.
Hip & Knee Replacement, Hip Preservation
About Dr. Youngman
Dr. Tyler Youngman is a fellowship-trained orthopaedic hip and knee surgeon at Carrell Clinic. He specializes in primary, complex, and revision hip and knee replacement, hip preservation, including periacetabular osteotomy, and treatment of fractures, dislocations, and infections around the knee and hip. He has a particular interest in anterior hip replacement, robotic-assisted or computer-navigated surgeries, and hip preservation.
Dr. Youngman earned his Bachelor of Science degree in bioengineering at Clemson University in South Carolina. He then attended The University of Texas Southwestern Medical School in Dallas, where he earned his medical degree and then completed an orthopaedic surgery residency at The University of Texas Southwestern Medical Center. Following his residency, he completed his fellowship training in joint preservation, resurfacing, and replacement at Washington University School of Medicine in St. Louis, where he learned alongside internationally recognized leaders in the field of hip and knee replacement and hip preservation.
With a priority of focusing on individualized treatment for each of his patients, Dr. Youngman is committed to using his extensive training and experience to ensure the best possible care and outcomes. He advocates for employing nonoperative approaches as the initial treatment for most conditions, reserving surgical intervention as a secondary choice. Dr. Youngman takes satisfaction in walking beside patients on their path to recovery and contributing to the enhancement of their quality of life.
When Dr. Youngman is not seeing patients, he enjoys spending time with his family, outdoor activities, and playing golf.
Dr. Youngman Specializes In:
Direct Anterior and Mini-Posterior Total Hip Arthroplasty
Conventional Total Knee Arthroplasty
Robotic-Assisted Total Hip, Total Knee, and Partial Knee Replacement
Revision Hip and Knee Arthroplasty
Hip Resurfacing
Hip and Knee Periprosthetic Fractures and Infections
Hip Fractures
Hip Preservation Surgery
Periacetabular Osteotomy (PAO)
Hip Arthroscopy
Gluteus Medius Repair
Physician Coordinator
Lizeth Rivas
Phone: (214) 720-9308 Ext. 1308


Education and Training
Undergraduate Degree
Clemson University, Clemson, SC
Medical Degree
The University of Texas Southwestern Medical School, Dallas, TX
Orthopaedic Surgery Residency
The University of Texas Southwestern Medical Center, Dallas, TX
Joint Preservation, Resurfacing, and Replacement Fellowship
Washington University School of Medicine in St. Louis, St. Louis, MO
Certification and Affiliations
Professional Affiliations
AAHKS Young Arthroplasty Group
American Academy of Orthopaedic Surgeons
American Association of Hip and Knee Surgeons
Hospital Affiliations
Carrell Clinic Dallas
Carrell Clinic Frisco