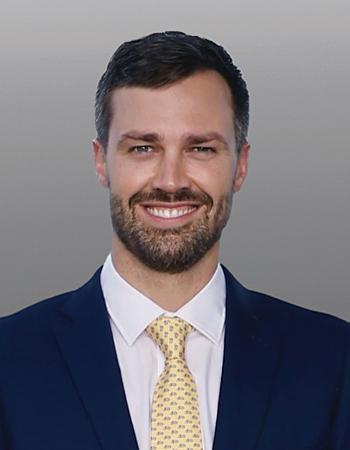 Holt S. Cutler, M.D.
Shoulder & Elbow
About Dr. Cutler
Dr. Holt Cutler is a fellowship-trained orthopaedic surgeon specializing in the comprehensive management of shoulder and elbow disorders and injuries at Carrell Clinic. He was born and raised in Dallas and is a graduate of St. Mark's School of Texas.
He completed his Bachelor of Science degree in mechanical engineering at the University of Pennsylvania in Philadelphia before attending Columbia University in New York City for a postbaccalaureate premedical program. He earned his medical degree from the Icahn School of Medicine at Mount Sinai in New York City, where he was elected into the Alpha Omega Alpha (AOA) honor society. Dr. Cutler then returned to Dallas to complete his orthopaedic surgery residency at UT Southwestern Medical Center, where he was awarded the Vert Mooney Award for Academic Achievement and the G. Truett James Award for Excellence in Teaching. Following his residency training, he completed his fellowship training in shoulder and elbow surgery at the University of Pennsylvania, where he was awarded the Joseph P. Iannotti Award for Excellence in Shoulder and Elbow Surgery. He received world-class training in shoulder replacement surgery, treatment of rotator cuff disorders, shoulder arthroscopy, shoulder instability, labral repair, shoulder separation, tendon injuries, sports-related injuries, elbow injuries, and upper extremity trauma.
Dr. Cutler is committed to working with patients to find a personalized treatment plan that works best for their injury or condition. He is an expert in the latest surgical and nonsurgical treatment options for the shoulder and elbow. He prioritizes communication as a foundation for providing his patients with the best care possible so that they can get back to living their lives.
When Dr. Cutler is not seeing patients, he enjoys spending time with his family, running, cycling, and sailing.
Dr. Cutler Specializes In:
Shoulder & Elbow Disorders
Arthritis
Tendon Injuries
Rotator Cuff Injuries
Shoulder Arthroscopy
Shoulder Replacement
Shoulder Instability and Labral Injuries
Sports Injuries
Shoulder & Elbow Fractures
Elbow Arthroscopy
Elbow Replacement
Complex Cases
Upper & Lower Extremity Fractures
Physician Coordinator
Tiara Fraley
Phone: (214) 397-1505


Education and Training
Undergraduate Degree
University of Pennsylvania, Philadelphia, PA
Premedical Program
Columbia University, New York, NY
Medical Degree
Icahn School of Medicine at Mount Sinai, New York, NY
Orthopaedic Surgery Residency
UT Southwestern Medical Center, Dallas, TX
Shoulder and Elbow Fellowship
Penn Medicine, Philadelphia, PA
Affiliations
Professional Affiliations
American Shoulder and Elbow Surgeons
Hospital Affiliations
North Central Surgical Center
Texas Health Presbyterian Hospital Dallas