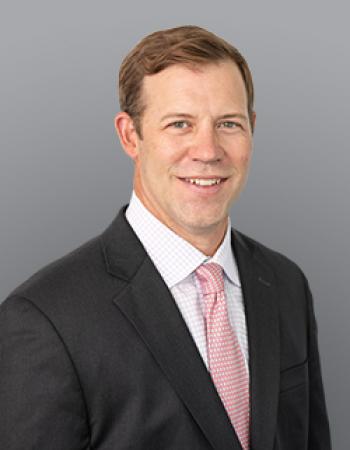 J. Field Scovell, III, M.D.
Sports Medicine
About Dr. Scovell
Dr. John Field Scovell, III, is a shoulder and sports medicine surgeon at Carrell Clinic in Dallas. Dr. Scovell is board-certified in orthopaedic surgery and fellowship-trained in shoulder and sports medicine surgery. With his training and experience, he offers expert care for injured athletes and active persons. From sports injuries of high school football players and young athletes in baseball and soccer to rotator cuff injuries from a pick-up basketball game or a skiing collision, Dr. Scovell has the expertise to offer the comprehensive care needed.
Dr. Scovell has returned to his hometown of Dallas, Texas, with wife Lyle and three children, John Field, Maren, and Campbell. He joins the Carrell Clinic to anchor the new office at the Star in Frisco. He lived and practiced in Lubbock, Texas, for ten years prior to his return to Dallas. There he served as a team physician for Texas Tech University including women's soccer and the men's and women's basketball teams. He is also a former letterman in football at Texas Tech where he played wide receiver for Head Coach Spike Dykes.
Dr. Scovell is a native of Dallas and graduated from Hillcrest High School. He is the son of John and Diane Scovell and the grandson of Mr. Cotton Bowl Field Scovell. His interests include coaching his kids, spending time in his mom's hometown of Brady, Texas, and following the Texas Tech Red Raiders and area high school sports. In his practice, he works with young athletes of every sport as well as active people of all ages.
He graduated from Texas Tech with a business degree in 1996. He completed medical school at Texas Tech University Health Science Center in 2002. He completed his residency at UT Southwestern and Parkland Hospital in 2007. From there, he completed a one-year fellowship in sports medicine and shoulder reconstruction with Dr. Richard Hawkins at the Steadman Hawkins Clinic of the Carolinas in 2008, where he trained in the advanced care of the shoulder and sports injuries, from shoulder tendon and labrum surgery to anterior cruciate ligament (ACL) repair. He specializes in arthroscopy for the minimally invasive repair of the shoulder and knee as well as total shoulder replacements.
Dr. Scovell Specializes In:
Knee Ligament Reconstruction, Including ACL Reconstruction
Knee Cartilage Restoration
Sports Injuries of the Ankle, Knee, Elbow & Shoulder
Acute Injuries to the Extremities
Shoulder Reconstruction
Rotator Cuff Repair
Shoulder Labral Repair
Elbow Ligament Repair, Including Ulnar Ligament Reconstruction
Physician Coordinator
Madeline Dolberry
Phone: (214) 720-9374


Physician Assistant
Education and Training
Medical Degree
Texas Tech University Health Sciences Center School of Medicine, Lubbock, TX
General Surgery Internship
UT Southwestern Medical Center, Dallas, TX
Orthopaedic Surgery Residency
UT Southwestern Medical Center, Dallas, TX
Sports Medicine and Shoulder Reconstruction Fellowship
Steadman Hawkins Clinic of the Carolinas, Spartanburg, SC

Certification and Affiliations
Certification
Board Certification: American Board of Orthopaedic Surgery
Professional Affiliations
American Orthopaedic Society for Sports Medicine
Arthroscopy Association of North America
Hawkins Society
Texas Medical Association
Texas Orthopaedic Association
Hospital Affiliations
North Central Surgical Center
Texas Health Presbyterian Hospital Dallas
Baylor University Medical Center
Baylor Scott & White Sports Surgery Center at the Star