Advantages of Mako Robotic-Assisted Knee Replacement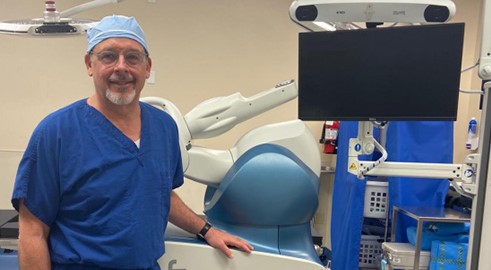 Knee replacement surgery is a very safe and common joint replacement surgery that can relieve knee pain, restore function, and greatly improve quality of life. Use of the advanced Mako Robotic system further improves patient outcomes. Here are some of the advantages of Mako Robotic-Assisted Knee Replacement surgery:
Detailed 3D pre-surgical planning: CT scans are used to create highly accurate 3D models of the knee joint. The surgeon can visualize and plan the knee replacement surgery in detail to closely match the anatomy of each patient.
Improved accuracy and precision: Mako robotic arms aren't subject to fatigue or minute tremors unlike the surgeon's arms. This improves the accuracy when cutting bone and soft tissues and placement of the knee implant.
Better Safety: The specifications of the pre-surgical 3D plan are fed into the Mako robotic system, which ensures all reaming and cutting instruments always stay in the safe zone. The highly precise movements of robotic arm allow for the surgery to be performed through smaller incisions and in tight spaces causing minimal damage to healthy tissue.
Mako robotic technology is applicable to anyone who is a candidate for knee replacement. If you suffer from knee pain and stiffness that is preventing you from performing activities of daily living and your symptoms have not improved with conservative treatment, you may be a candidate for Mako Robotic-Assisted Knee Replacement.
Dr. Kitziger is a board-certified orthopedic surgeon with special training in hip & knee replacement and arthroscopic surgery. He uses advanced non-surgical and surgical treatments to treat a wide range of orthopedic conditions. He has been elected to membership in the American Association of Hip and Knee Surgeons, and the Clinical Orthopedic Society, and he is the author of numerous articles and book chapters. He is an editorial board member of the journal Orthopedics as an expert in the field of hip and knee surgery. Click here to make an appointment.