Advances in Arthroscopic Shoulder Surgery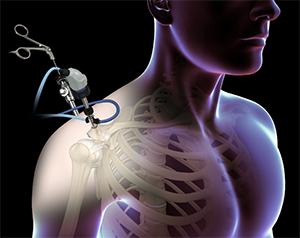 Shoulder arthroscopy was first developed in the 1980s. It allows the surgeon to look inside the joint, identify and possibly treat a shoulder problem through tiny keyhole incisions. The procedure is often performed in an outpatient setting with the patient being allowed to go home on the very same day.
Arthroscopic shoulder surgery has helped identify previously unknown shoulder disorders such as a SLAP tear which occurs at the insertion of the biceps tendon into the shoulder. The first arthroscopic shoulder surgery was a subacromial decompression, which is performed to treat shoulder impingement where the components of the joint rub against each other and cause pain when you raise your arm.
Over the years, arthroscopic procedures have improved with better instruments and techniques for treating most shoulder injuries such as rotator cuff tears. Some important breakthroughs in arthroscopic shoulder surgery include:
Better magnifying lenses, fiberoptic technology, and digital monitoring devices to improve visualization within the shoulder joint
Arthroscopes with smaller diameters that can be inserted through very tiny incisions on the skin
Improved technology to control the arthroscope while performing repairs within the shoulder.
Advanced designed suture anchors that can be easily inserted into bone have greater load to failure strength, and can accommodate multiple sutures.
Knotless double row repairs which is an innovate technique that increases tendon to bone contact creating a low profile secure fixation.
All-suture anchors that minimizes bone loss and hardware prominence.
Bioabsorbable sutures with titanium tip which allows the suture to be directly pushed into the bone without needing to prepare a bone channel
Bioabsorbable suture anchors which have high pullout strength even in poor quality bone.
If you suffer from a shoulder injury that does do seem to be getting better with conservative therapy, perhaps you might benefit from arthroscopic shoulder surgery. The physicians at Carrell Clinic are committed to providing the highest standards of excellence in orthopedic care.  Click here to schedule an appointment.