10 Benefits of Physical Therapy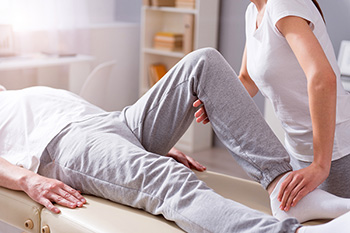 Physical therapy awareness month is celebrated every year in the month of October. The goal is to help people understand the key role of physical therapy in helping people live healthy, active, and meaningful lives.
Here are 10 important benefits of physical therapy:
Controlling pain: Dealing with chronic orthopedic pain can be quite a frustrating experience. Different forms of physical therapy such as exercise, manual therapy, or a TENS unit can be used to reduce or eliminate pain.
Delaying surgery: Physical therapy can be used as first line of treatment in many instances to improve joint health by stimulating muscle growth and improving bone density. This may help delay or avoid the need for more invasive treatments.
Preventing injury: One of the important aspects of physical therapy is to analyze weaknesses in the musculoskeletal system and to devise a specific program to reduce the risk of injury in the future.
Improving mobility: Sustaining a serious injury to major weight-bearing joints such as the hip and knee could significantly restrict mobility. Physical therapy exercises and devices can be prescribed to restore mobility, balance, and coordination.
Slows down joint degeneration: Some amount of joint degeneration and muscle atrophy is normal as part of the aging process. However, physical therapy can be used to significantly delay age-related wear and tear.
Enhances sports performance: Whether you are a high-level athlete or a weekend warrior, physical therapy can help you perform better while participating in sports or any physical activities you enjoy.
Improves surgical outcomes: Physical therapy eases post-surgical pain and swelling, restores range of motion, and plays a big role in ensuring a positive surgical outcome.
Prevents opioid dependence: According to the CDC (Centers for Disease Control and Prevention) physical therapy can help combat the growing opioid crisis as it offers a safer alternative for pain control.
Improves overall health: Physical therapy can be used as part of the overall rehabilitation process when recovering from stroke and heart attack or managing diabetes and other general health issues.
Improving quality of life: By improving functional ability and optimizing health, physical therapy has a positive impact on mental and emotional aspects of health.
The physicians at Carrell Clinic are committed to providing the highest level of orthopedic care in Frisco & Dallas, Texas. Book an appointment with us today.