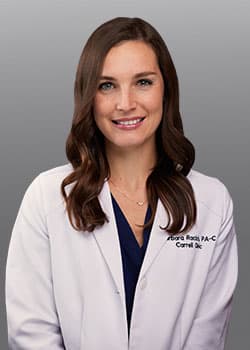 Barbara Bishop, P.A.-C.
Barbara is originally from Indiana and completed her undergraduate degree in chemistry with a minor in medical science and biology at Indiana University in Bloomington. In addition, Barbara graduated from Indiana University with a master's degree in physician assistant studies in 2016. Barbara is certified by the National Commission on Certification of Physician Assistants and is licensed by the Texas State Board of Physician Assistant Examiners. She is a fellow member of the American Academy of Physician Assistants and the Texas Academy of Physician Assistants. She moved to Dallas in 2017 and began working as a physician assistant in orthopaedic surgery. She has previously been employed by an orthopaedic practice that encompassed several orthopaedic subspecialties, allowing her to gain experience with total joints, sports medicine, spine, and revision surgeries. She also has extensive experience in orthopaedic trauma. She joined Dr. Jason Klein at the Carrell Clinic in the spring of 2021.
In her spare time, she enjoys spending time with her family, cooking, running, and traveling. Some of her favorite hobbies include watching Indiana University basketball, playing intramural sports with friends, and spending the warm-weather days wake-surfing on Possum Kingdom Lake with her family.