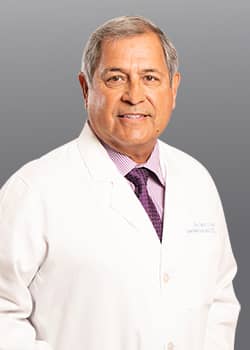 Santana Gonzalez, O.P.A.-C.
Santana came to the Carrell Clinic in December 2006 to work with Dr. Daniel Cooper. He is a certified Orthopedic Physician Assistant and has worked in orthopedics for over 30 years.
Santana is involved with the Arthroscopy Association of North America, the American Orthopedic Society of Sports Medicine and the International Society of Arthroscopy, Knee Surgery, and Orthopedic Sports Medicine. He assists in their teaching labs with the latest techniques and instruments.
Santana was born in South Texas and enjoys sport activities, traveling, and spending time with family and friends.